A simple and delicious pasta ideal for a weeknight dinner or a light meal at the end of the week.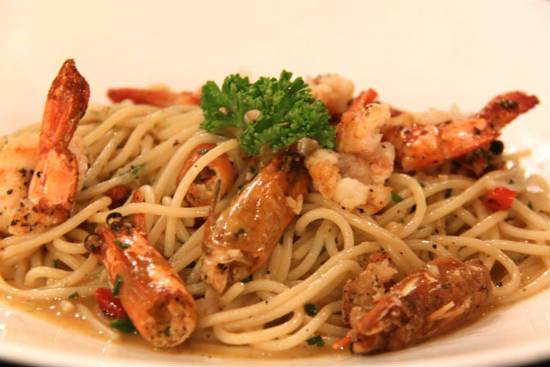 Ingredients:
Pasta (Linguine) – 250 gms
Prawns – 400 gms, shelled, deveined, tails left intact
Parsley – 1/4 cup, chopped
Salt as per taste
Black Pepper Powder as per taste
Olive Oil – 2 tsp
Onion – 1/2, finely chopped
Red Chilli – 2 to 3, seeded, finely chopped
Garlic – 1 clove, small, crushed
Dry White Wine – 1/2 cup
Method:
1. Cook the pasta in a pan of boiling salted water.
2. Reserve 1/4 cup of water and drain well.
3. Heat oil in a pan over medium flame.
4. Saute the onions until soft.
5. Add the red chillies and garlic.
6. Cook for 10 seconds and add the prawns.
7. Cook for 5 minutes.
8. Add wine and simmer for 2 to 3 minutes or until the prawns turn pink and opaque.
9. Add the pasta and parsley.
10. Add some of the reserved water and cook for a minute or two more.
11. Sprinkle salt and pepper powder.
12. Stir gently and serve.