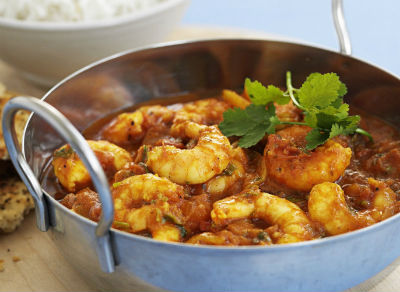 Ingredients:
Prawns – 100 gms, shelled, deveined, heads removed, washed
Papaya – 1/3 cup, unripe/green, chopped, seeds and skin removed
Oil – 1 1/2 tblsp
Onion – 1, chopped
Tomatoes – 1 to 2, chopped
Salt as per taste
Thick Coconut Milk – 1/3 cup
White Vinegar – 1/2 tsp
Grind to a fine paste:
Garlic – 1 clove, chopped
Ginger – 1 one inch piece, chopped
Dry Red Chillies – 3, broken
Parboiled Rice – 1/2 tblsp
Black Pepper Powder – 1 tsp
Cumin Seeds – 1/4 tsp
Mustard Seeds – 1/4 tsp
Turmeric Powder – 1/4 tsp
Coriander Powder – 1 tsp
Water – 2 tblsp
Method:
1. Heat oil in a pan.
2. Fry onions till translucent.
3. Add the ground paste and fry for 30 to 60 sconds.
4. Add prawns and fry for 3 to 5 minutes.
5. Add papaya, tomatoes and salt.
6. Reduce heat and cook till papaya is tender.
7. Pour in coconut milk and vinegar.
8. Mix well and remove.
9. Serve hot as a side dish.
Note: image is for illustration purposes only and not that of the actual recipe.