As the name suggests, the origin of Calicut Chicken Biryani lies in Calicut. Calicut or Kozhikode is a city in Kerala which is famous for its spice plantations and availability of ginger in abundance.
The origin of Biryani, as we all know, can be traced way back to the Mughal Era. It is said that the Mughals were the ones who introduced this heavenly dish in our country. It is a rice preparation cooked with any kind of meat.
Biryani is a complete main dish by itself and serves as a stomach-filling meal. Biryani can be made in a variety of styles as it gets easily influenced by a cook's own way of cooking.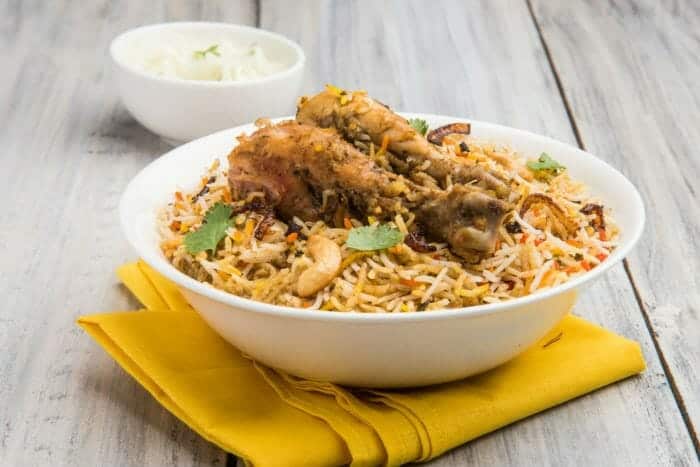 The distinctive feature of Calicut Chicken Biryani is that each section of the dish is cooked individually. All of it is then layered on top of each other at the last stage.
To allow the flavors to infuse into each other, the layers are then cooked together for a little longer. It is a step by step process but its irresistible aroma can make you drool easily. The alternate layers in the Calicut Biryani allow you to relish the flavor of each grain. The presence of distinct flavors from the south, with spices like turmeric, cumin, and ginger helps you to digest it easily.
The addition of fresh herbs like mint, coriander, and curry leaves accentuates the health quotient and refreshing taste of this dish. Being a dish made from chicken, it is abundant in proteins and the rice gives you the required dose of carbohydrates.
Steaming hot biryani fills the whole house with a sense of craving. Tiny chopped tomatoes, onions and cucumbers added to curd, called as Pachadi, can be served along to make it a winning combination.
Garnishing the dish with fried onions and lemon wedges make it look even more appealing. The Calicut Chicken Biryani is a good option for special occasions and birthdays. Moreover, this scrumptious one-dish meal can be eaten to your heart's content and in a guilt-free way!
If you like this, try some of our other Biryani recipes: Chettinad Chicken Biryani, Mutton Biryani with Coconut Milk, Sindhi Biryani, Ambur Biryani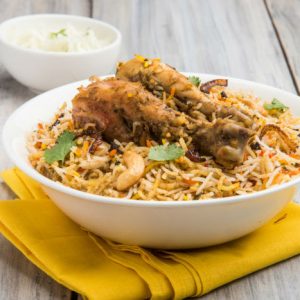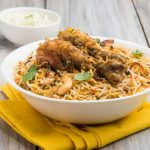 Print Recipe
Calicut Chicken Biryani
A special biryani made using a style popular in Calicut, Kerala.
Ingredients for
Calicut Chicken Biryani
Marinade
1/2

kg

chicken

1/2

cup

yoghurt

25

g

coriander leaves

25

g

mint leaves

10

g

gm curry leaves

1/2

tsp

cumin seeds

1

tsp

coriander seeds

1/2

tsp

aniseed powder

25

g

chopped green chillies

20

g

garlic

2

tsp

chopped ginger

1/2

tsp

turmeric powder

1

tsp

lime juice

1

tsp

poppy seeds paste
Main preparation
1

tbsp

clarified butter

5-6

cinnamon pieces

1

bay leaf

4-5

cardamom seeds

4-5

curry leaves

4-5

cloves

1

chopped onion

250

gm broken rice

1/2

litre water
Biryani masala
2

tbsp

clarified butter

5-6

cinnamon pieces

1

bay leaf

4-5

cloves

4-5

cardamom seeds

1

nutmeg

100

gm onions

1

medium tomato cut in 4
How to make
Calicut Chicken Biryani
For the rice:
Heat clarified butter in pan. Add cinnamon, 1 bay leaf, cardamom seeds, curry leaves and cloves. Add onions and saute till they turn translucent.

Add washed and cleaned rice. Cook till rice turns translucent. Add water.

When water comes to a boil, turn flame to low and cover pan. Cook on low flame for at least 15 minutes. The rice is done.
For the Biryani Masala:
Heat clarified butter in pan and add cinnamon, 1 bay leaf, cardamom seeds, nutmeg and cloves.

Add onions and saute till brown. Add tomatoes. Add marinated chicken.

Cover pan and cook for at least 5 minutes on a medium flame.

Remove cover and cook on low flame for another 10 minutes to allow gravy to thicken. Layer the serving bowl with alternating layers of rice and the chicken masala.

Garnish the top with a boiled egg cut in four pieces, roasted cashews and raisins.