A delicious and popular dish for lunch or dinner, this easy to make Chicken Pad Thai is a variation to the traditional Pad Thai Noodles.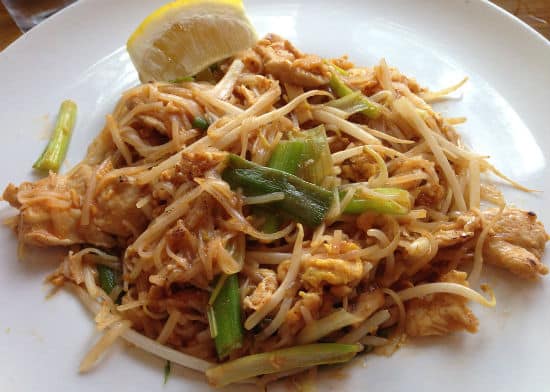 Ingredients:
Rice Noodles (or Linguine Pasta) – 125 gms
Chicken Breast – 250 gms, boneless, skinlesss, cut into small strips or chunks
Peanuts – 2 tblsp, salted, chopped
Lime Peel – 1/4 tsp, finely chopped or grated
Fish Sauce – 2 tblsp
Brown Sugar – 3 tsp
Lime Juice – 3 tsp
Rice Vinegar – 3 tsp
Water – 2 tsp
Chilli Sauce – 2 tsp
Garlic Paste – 1/2 tsp
Oil – 1 1/2 tblsp
Garlic – 3 cloves, minced
Egg – 1, small, lightly beaten
Spring Onions – 1 to 2 tblsp, chopped
Coriander Leaves – handful, chopped
Bean Sprouts – 1/2 cup, rinsed, drained
Method:
1. Mix the garlic paste and chilli sauce in a bowl. Keep aside.
2. Cook the noodles as per packet instructions or until al dente.
3. Drain and keep aside.
4. Mix the lime peel and peanuts in a bowl.
5. Whisk together the brown sugar, lime juice, vinegar, water, chilli sauce and fish sauce until smooth. Keep aside.
6. Heat 3/4 tblsp of oil in a pan.
7. Add the chicken and garlic.
8. Cook for 3 to 5 minutes or until the chicken is tender.
9. Remove and transfer to a bowl.
10. Add the beaten egg to the pan, swirl around and cook until set, without stirring.
11. Transfer to a plate and cut into strips.
12. Add the remaining oil to the pan.
13. Add the bean sprouts, chicken and noodles.
14. Add the sauce and stir.
15. Cook for a minute or two.
16. Transfer to a serving bowl.
17. Top up with the egg strips and peanut mixture.
18. Garnish with coriander leaves and spring onions.
19. Serve with lime wedges.