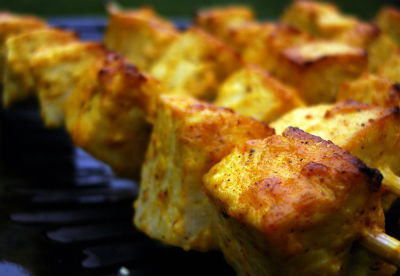 Ingredients:
Tofu – 250 gms, cubed
Oil – 1/2 tblsp
Red Onion – 1/2, wedged and separated
Juice of 1/2 Lime
Wooden Skewers – soaked in water for 45 minutes
For the marinade:
Plain Yogurt – 3/4 tsp
Juice of 1/2 Lime
Garlic – 1/2 tblsp, minced
Oil – 2 tblsp
Cumin Powder – 1/2 tsp
Coriander Powder – 1/4 tsp
Paprika – 1/2 tsp
Red Chilli Powder – 1/4 tsp
Salt as per taste
Black Pepper Powder – 1/4 tsp
Method:
1. Combine all the marinade ingredients in a bowl and mix well.
2. Add the tofu pieces and gently mix until all the pieces are evenly coated with the marinade.
3. Cover and keep the bowl in the fridge for 1 hour.
4. Skewer the tofu and onion slices alternatively so that there is an onion slice between 2 tofu pieces.
5. Place them on a greased baking tray.
6. Keep the tray in a preheated oven at 190C/380F for 20 to 25 minutes, turning it once halfway through.
7. When the tofu pieces are golden brown and cooked remove from the oven.
8. Transfer to a serving plate.
9. Sprinkle lime juice on top and garnish with coriander leaves.
10. Serve with mint chutney.
image credit: flickr.com/photos/-m-p-g-/2609126669/