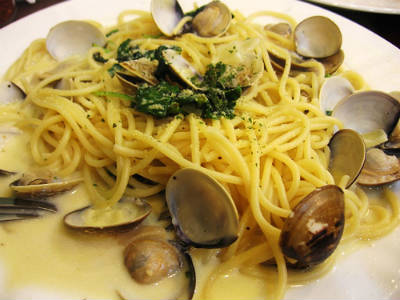 Ingredients:
Clams – 500 gms, cleaned, washed
Pasta – 200 gms, any long, thin variety, cooked as per packet instructions
White Wine – 1 to 2 tblsp
Olive Oil – 1 tblsp plus extra
Butter – 1 tblsp
Garlic – 2 to 3 cloves, chopped
Small Onions – 1/4 cup, chopped
Parsley – 2 tblsp
Salt as per taste
Black Pepper Powder as per taste
Red Chilli Flakes as per taste
Method:
1. Reserve some of the water used for cooking the pasta.
2. Heat oil in a pan.
3. Add butter, garlic and onions.
4. Saute until the onions turn golden.
5. Add the clams and wine.
6. Cover the pan with a lid and cook for 5 minutes or until the clam shells have opened.
7. Transfer the clams to a plate.
8. Pour 1/4 cup of the reserved pasta water and bring to a boil.
9. Add the pasta and simmer for a minute.
10. Add clams, parsley and cook for a minute.
11. Add salt, chilli flakes and pepper powder.
12. Drizzle some olive oil on top and remove.
13. Serve at once.
Tip: If desired, sprinkle some grated cheese before serving.