A delicious homemade pizza brushed with a tomato sauce, topped with spinach, mushrooms and two varieties of cheese. A great way to enjoy the weekend (or weekday) lunch or dinner.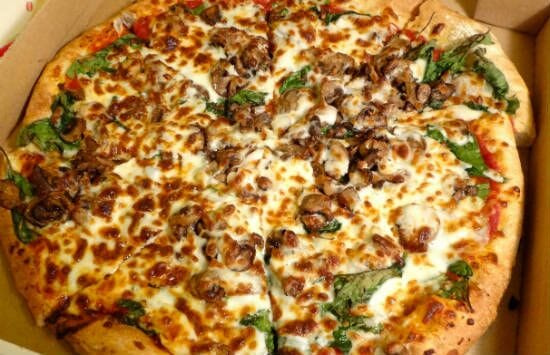 Ingredients:
Pizza Base – 1, medium (12 inch) (recipe for pizza dough here, here and here)
Tomato Sauce (or Pizza Sauce) 1/2 cup
Spinach Leaves – 1/2 cup, finely chopped
Mushrooms – 1/2 cup, sliced
Mozzarella Cheese – 1 cup, grated
Cheddar Cheese – 2 tblsp, grated
Capsicum – 1/4 cup, sliced, for topping (optional)
Onions – 1/2 cup, sliced, for topping (optional)
Tomato – 1/2 cup, sliced, for topping (optional)
Black Pepper Powder as required (optional)
Method:
1. Place the pizza base on a flat surface.
2. Spread the tomato sauce over the base.
3. Layer the mushrooms and spinach on top.
4. Top up with the onions and tomatoes if using.
5. Sprinkle the cheeses on top.
6. Place the pizza base in a preheated oven at 475F and cook for 8 to 10 minutes or until the crust is crisp and cheese is golden and melted.
7. Remove and cool slightly.
8. Garnish with the capsicum and sprinkle pepper powder on top.
9. Slice and serve.
Subscribe to our Newsletter
Receive the latest recipes & kitchen tips !