A simple and easy recipe for home made pizza dough.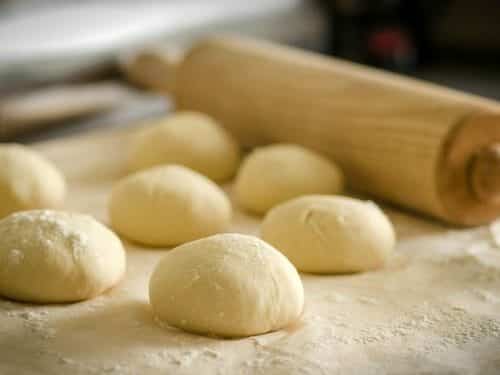 Pizza dough is a type of leavened bread dough that is stretched or rolled out and topped with tomato sauce and cheese and other ingredients such as meats, vegetables, and seasonings.
The word "pizza" is believed to have originated in Italy and come from the Latin word "pizza" which means "pie".
The main ingredients in pizza dough are flour, water, yeast, and salt.
Pizza dough is made from a combination of dry ingredients that are mixed with water. The water and the dry ingredients are then kneaded together in a bowl until the dough comes together in a ball.
In addition to the main ingredients, pizza dough can be flavored with garlic, basil, oregano, or other herbs and spices.
The dough is then placed on a flat surface and rolled out to form a flat circle. The round dough is then transferred to a pizza pan and topped with tomato sauce, cheese, and any other desired toppings.
Pizza is a favorite in many homes. It is a fun dish to make in the kitchen and is versatile. You can have whatever you want on your pizza. Pizza can be made from scratch or it can be bought from a pizza place.
Making your own pizza dough is something that is quite an art. Many people have their own recipes that they follow when making pizza dough. Some recipes include ingredients such as yeast, nonfat dry milk, sugar, salt, vegetable oil, and wheat flour. There are also recipes that do not include eggs, dairy, or sugar.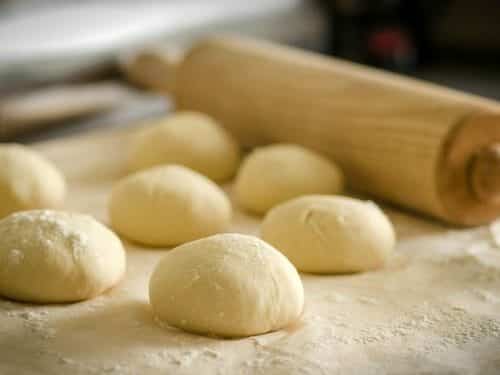 Pizza Dough

Recipe

A simple and easy recipe for home made pizza dough.
Ingredients for
Pizza Dough
1 1/2

cup

Maida / Plain Flour

1/2

tsp

Salt

1/2

cup

Warm Water

a small pinch

Sugar

1 1/4

tsp

Active Dry Yeast
How to make
Pizza Dough
Combine the yeast, sugar and water in a bowl.

Mix until yeast and sugar dissolves.

Keep aside for 3 to 5 minutes.

Mix the flour and salt in a bowl.

Add the yeast mixture and knead until well combined.

Once the dough leaves the sides of the bowl, transfer it to a floured surface.

Use a bit more flour to make it smooth and keep kneading for another 4 to 5 minutes.

Divide the dough into half and shape each half into a ball.

Place them on a lightly floured surface and cover with a kitchen towel for 5 to 10 minutes.

After 10 minutes use the dough to make the pizza of choice.
Notes
If desired you can sprinkle some mixed herbs, oregano, dried basil leaves to enhance the flavor.