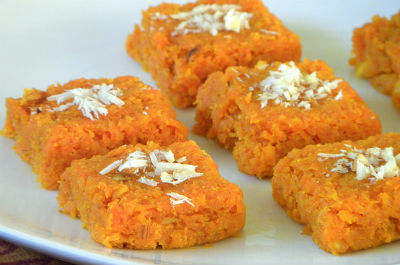 Ingredients:
Carrot big – 4 washed and finely grated
Sugar equal to the measure of the carrot gratings
Ghee – 6 or 7 tbsp
Cashew Nuts – 10 to 12
Cardamom – 6, powdered
Method.
1. Heat ghee in a kadai and fry the grated carrot till the raw smell goes.
2. Fry the cashew nuts and keep aside.
3. Take equal amount of sugar for the carrot grating.
4. Add water and boil to reach one string consistency.
5. Add the carrot grating and add ghee now and then.
6. Stir well till ghee leaves the sides of the kadai.
7. Add fried cashew and cardamom powder and mix well.
8. Pour into a greased plate.
9. Allow the burfi to cool and cut it into pieces.
image credit: flickr.com/photos/[email protected]/6862898505/