A variation to the plain, regular popcorns, this is a must have for any weekend party, get-togethers or can also be served as a teatime snack or after-school snack to kids. Enjoy this homemade masala popcorn.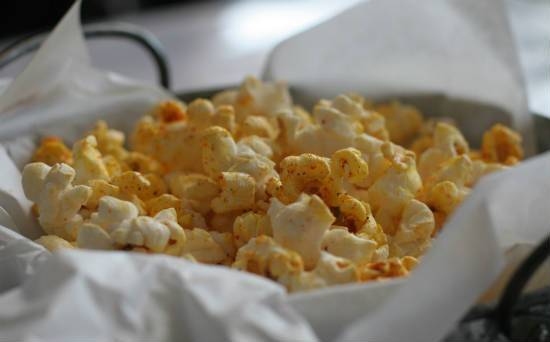 Ingredients:
Unpopped Popcorn – 2 cups (there are plenty of readily available options in supermarkets. Will look like sweet corn kernels)
Butter – 1/2 cup (see note)
Oil – 3 tblsp
Cinnamon Powder – 1 tblsp
Cumin Powder – 1 tblsp
Red Chilli Powder – 1/2 tsp (adjust as required)
Garam Masala Powder – 3/4 tblsp
Salt as per taste
Method:
1. Heat oil in a large pan with a lid.
2. Add the popcorns and cover with a lid, leaving a small gap.
3. Shake the pop every now and then so that all the corns pop.
4. Once it has stopped popping, switch off the flame and remove the pan from flame.
5. Heat butter in a nonstick pan.
6. Add the spices and mix well.
7. Pour this over the popcorn and shake well until evenly mixed.
8. Serve.
Note: If you prefer a butterless variation, just mix the spices and add to the corn.