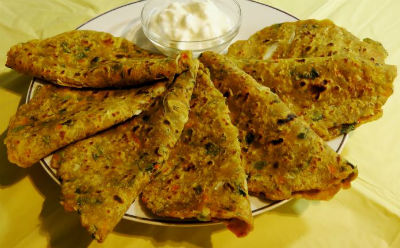 Ingredients:
Wheat Flour – 1 kg
Potato – 1, boiled, mashed
Onion – 1, finely chopped
Tomato – 1, chopped
Coriander Leaves – handful
Mint Leaves – handful
Ginger – 1 tblsp, finely chopped
Green Chillies – 1 tblsp, finely chopped
Red Chilli Powder – 1/4 tsp
Oil – 1/4 cup
Salt as per taste
Method:
1. Knead wheat flour, required water and salt to a thick dough.
2. Combine potato, onion, tomatoes, coriander leaves, mint leaves, ginger, green chillies, chilli powder and salt.
3. Mix until all the vegetables are mashed and mixed well.
4. Pinch small balls of the dough and roll into a medium size round.
5. Add 1 tsp oil and spread 2 tsp of the vegetable mixture.
6. Fold the edges and roll again into a thick paratha.
7. Heat a tawa over moderate flame.
8. Place the paratha on the tawa and cook on both sides till done.
9. Serve hot.
image credit: madhuras