A popular street food (chaat) that has its origins in North India, Dahi Papdi Chaat is tasty and quick snack to make.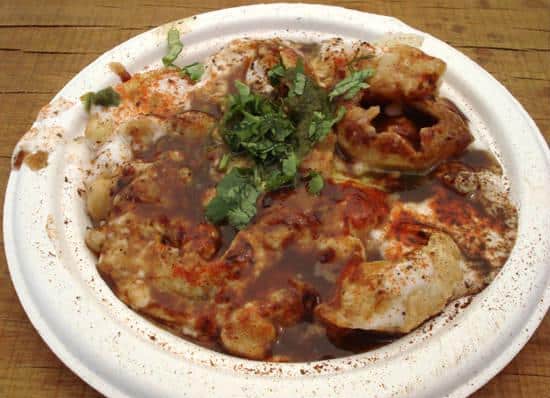 Ingredients:
Plain Yogurt – 3/4 to 1 cup
Crisp Papdis – 10 to 15 (available readymade in major supermarkets) (recipe here)
Potatoes – 2, boiled, peeled, chopped
Sprouted Mung Beans – 1/4 cup
Garlic Chilli Chutney – 1/2 tsp
Coriander Mint Chutney – 1 1/2 to 2 tblsp (recipe here)
Tamarind Dates Sweet Chutney – 2 tblsp (recipe here)
Cumin Powder – 1/2 tsp
Chaat Masala Powder – 1/4 tsp
Red Chilli Powder – 1/4 tsp
Coriander Leaves – few
Plain Sev – 2 to 3 tblsp, to garnish
Sugar – 1 tsp
Salt as per taste
Method:
1. Add a pinch of salt and sugar to the yogurt.
2. Whisk until smooth.
3. Arrange the papdis on a plate.
4. Add some potatoes on top.
5. Top up with mung beans.
6. Drizzle the coriander mint chutney and tamarind dates chutney on top.
7. Sprinkle chaat masala powder, cumin powder, red chilli powder and little salt.
8. Drizzle the yogurt on top followed by any remaining chutneys.
9. Garnish with coriander leaves and sev.
10. Serve at once.