Grilled big, juicy shrimps in a spicy paste. Serve as a starter or as an appetizer.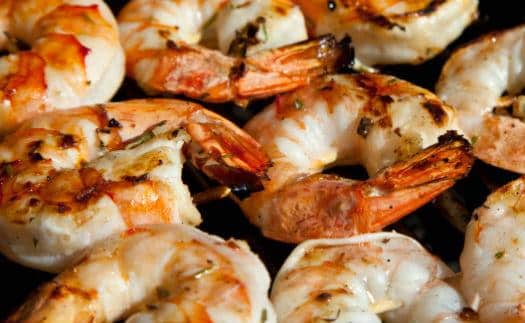 Ingredients:
Shrimps – 10, peeled, deveined
Lime Juice – 2 tsp
Wooden Skewers – soaked in water for 45 minutes
Coconut Milk – 2 tblsp, thick
For the masala paste:
Cashew Nuts – 2
Red Chillies – 2
Lime Leaf – 1/2
Ginger – 1/4 inch piece, peeled, sliced
Sambar Onions (Shallots) – 2 to 3 (depending on size), peeled
Garlic – 1 clove, peeled
Roasted Dried Shrimp Paste – 1/4 tsp
Dark Brown Sugar – 1 tsp
Salt – 1/4 tsp
Oil – 3 tsp
Method:
1. Dry roast the cashew nuts until golden brown and grind coarsely.
2. To this, add all the other ingredients for masala paste and grind until smooth.
3. Mix the shrimps with lime juice in a bowl and toss well.
4. Keep aside for 30 minutes.
5. Heat oil in a pan.
6. Fry the spice paste for 2 to 3 minutes.
7. Add the coconut milk and bring to a boil.
8. Simmer for a minute and transfer to a bowl.
9. Add the shrimps and toss well until coated evenly.
10. Keep aside for 30 minutes.
11. Skewer them onto the wooden sticks and grill for a minute or two on each side, until lightly browned.
12. Serve hot with mint sauce.