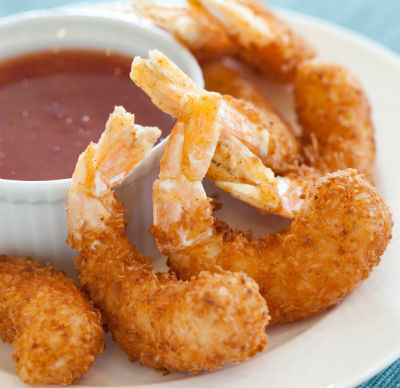 Ingredients:
Shrimps – 10 to 12, shelled, deveined
Breadcrumbs – 3/4 cup
Egg Whites – 2
Coconut – 1/3 cup, grated, unsweetened
Oil as required
For the sauce:
Honey – 1/4 cup
Rice Vinegar – 1 tblsp
Soy Sauce – 1/2 tblsp
Red Chilli Flakes – 1/4 tsp
Method:
1. Beat the egg whites until lightly frothy.
2. Combine the breadcrumbs and coconut in a bowl.
3. Dip the shrimps in the egg whites and roll them in the breadcrumb mixture.
4. Dip again in the egg whites and roll in the breadcrumbs once more.
5. Then place on them on a tray lined with parchment paper.
6. Keep the tray in the fridge for an hour.
7. To make the sauce, whisk all the ingredients in a bowl and keep aside.
8. Heat 2 to 3 tblsp of oil in a frying pan.
9. Remove the shrimps from the fridge 5 to 10 minutes before frying.
10. Fry the shrimps in hot oil for a minute or until golden.
11. Remove and drain excess oil.
12. Transfer to a serving plate.
13. Serve with the honey sauce.
image credit: onceuponachef.com
Note: image is for illustration purposes only and not that of the actual recipe.