Shrimps marinated in a tandoori sauce and grilled to perfection. Ideal as a starter or appetizer to any meal.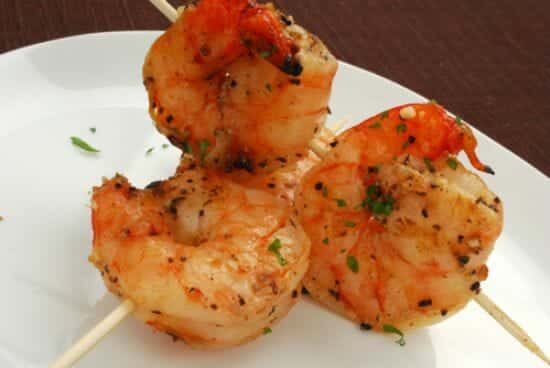 Ingredients:
Shrimps – 250 gms, peeled, deveined
Coriander Leaves – 1 tblsp, chopped
Ginger Garlic Paste – 2 tsp
Cumin Powder – 1/3 tsp
Coriander Powder – 1/3 tsp
Curry Powder – 1/3 tsp
Olive Oil – 3/4 tsp + extra
Lemon Juice – 3/4 tsp
Salt as per taste
Plain Yogurt – 2 1/2 tblsp
Wooden Skewers – 2 to 3, soaked in water for 30 minutes
Method:
1. Mix the yogurt, coriander leaves, lemon juice, oil, curry powder, salt, cumin powder, ginger garlic paste and coriander powder in a bowl.
2. Add the shrimps and mix until well coated.
3. Cover and keep it in the fridge for 30 to 45 minutes.
4. Thread the shrimps on to the skewers.
5. Heat a grill pan over medium flame.
6. Drizzle a little oil and place the skewers on the pan.
7. Cook for 2 to 3 minutes on each side, turning them once or twice.
8. Remove and transfer to a plate.
9. Serve at once.