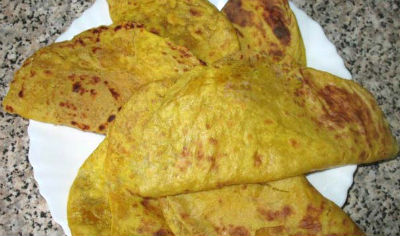 Ingredients:
Chana Dal – 1 cup
Coconut – 1 cup, grated
Jaggery – 1 cup
Maida – 1 1/4 cups
Ghee – 3 tblsp
Cardamom Powder – 1 tsp
Turmeric Powder – 1/2 tsp
Water as required
Salt – a pinch
Gingelly Oil – 1 1/2 tblsp
Banana Leaf – 3
Method:
1. Dry roast the chana dal and soak them in water for 30 minutes.
2. Mix salt and turmeric powder with maida.
3. Sprinkle a little water and knead well to a not semi-thick dough.
4. Add 1 tblsp oil and mix. Keep aside for 3 hours.
5. Boil the dal till half cooked.
6. Drain and transfer to a bowl.
7. Add coconut and grind to a smooth batter.
8. Add cardamom powder, jaggery and grind again without any lumps.
9. If the batter is thick, heat 1 tsp ghee in a pan and gently cook the batter for a minute.
10. Wash and grease the banana leaves.
11. Make equal sized balls of the dal mixture and maida mixture.
12. Place one of maida balls in the banana leaf and pat well using your palm.
13. Add one of the dal balls in the centre and fold the maida disc over it.
14. Now flatten this and gently pat to a medium size disc.
15. Heat a tawa over medium flame.
16. Add the prepared poli with the banana leaf to the tawa. The poli should not touch the tawa.
17. Remove the banana leaf after 30 seconds and add a little ghee to the poli.
18. Cook till golden and remove.
19. Repeat the same for the remaining.
20. Serve.
Note: image is for illustration purposes only and not that of the actual recipe.