A quick and easy pasta dish that can be served during lunch or dinner.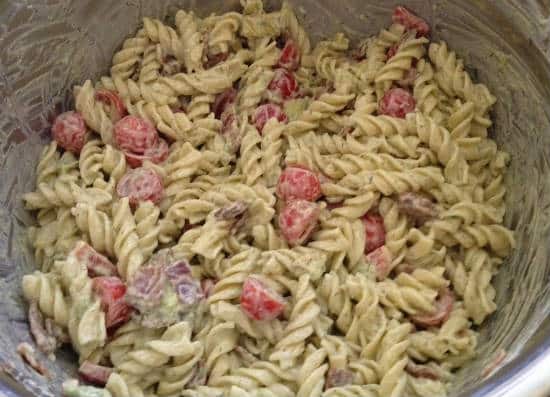 Ingredients:
Avocados – 4 medium, pitted, flesh scooped, skin discarded
Garlic – 3 cloves, minced
Lemon Juice – 2 tblsp
Lemon Rind – 1/2 tsp
Olive Oil – 2 tsp
Cherry Tomatoes – 1 cup, halved
Penne Pasta – 250 gms, cooked as per packet instructions
Parmesan Cheese – 1/3 cup + extra for garnish
Salt as per taste
Pepper Powder as per taste
Method:
1. Grind together the avocados, 2 garlic cloves, lemon juice, lemon rind, salt and pepper until smooth.
2. Heat olive oil in a pan.
3. Fry the remaining garlic until golden.
4. Add the halved cherry tomatoes and cook for 3 to 5 minutes.
5. Add the pasta and stir well.
6. Add the avocado mixture and parmesan cheese.
7. Mix well and cook for a minute or two or until creamy.
8. Remove from flame and transfer to a plate.
9. Garnish with cheese and serve at once.
Tip:
1. You can use any pasta.
2. Add cooked chicken if desired.