Thirupullani is a small village in TN with historical links. The story goes that King Dasaratha brought this wives to this village and had the payasam resulting in Lord Rama's birth. This is also said to be the place where Lord Rama rested on grass doing tapas. Thirupullani in tamil means bed made of grass.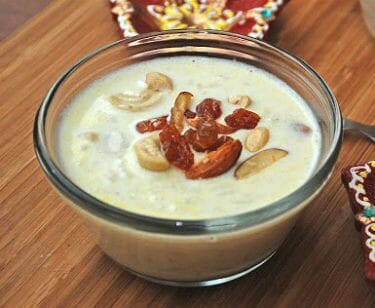 Ingredients:
Rice – 1 cup
Coconut – 1/2
Jaggery – 1 1/2 cups
Cardamoms – 2, powdered
Method:
1. Dry roast the rice and pressure cook with 3 cups of water.
2. Grate the coconut and extract 2 cups of milk.
3. Add jaggery to the cooked rice and mix well.
4. Add the 2nd extract of coconut milk and bring to a boil.
5. After a minute, add the first coconut milk and simmer for 2 minutes.
6. Add cardamom powder and stir gently.
7. Serve.
Tip: If desired, garnish with fried cashewnuts and raisins.
Subscribe to our Newsletter
Receive the latest recipes & kitchen tips !