Bitter gourd, – also called karela in Hindi, pavakkai in Tamil and kakarakaya in Telugu – is an Indian squash.
The word 'squash' is a derived American-Indian askoota squash. In winters the squash stays well for many days if stored in a cool, dry place. But in warm climates the green vegetable turns yellow and the seeds become blood-red within the two or three days after harvest. Thus it is absolutely necessary to store it in a refrigerator.
For many, bitter gourd botanically called "Momordica charantia", is unpalatable but in our house this vegetable is liked even by kids if its curry is made with jaggery. Of all the vegetables this is the only one which is bitter all over and inside unlike some varieties of cucumbers which have only the skins tasting bitter. But whereas skins of cucumbers are peeled so as to avoid the bitter taste of the dish, this unique vegetable when cooked loses most of its bitterness.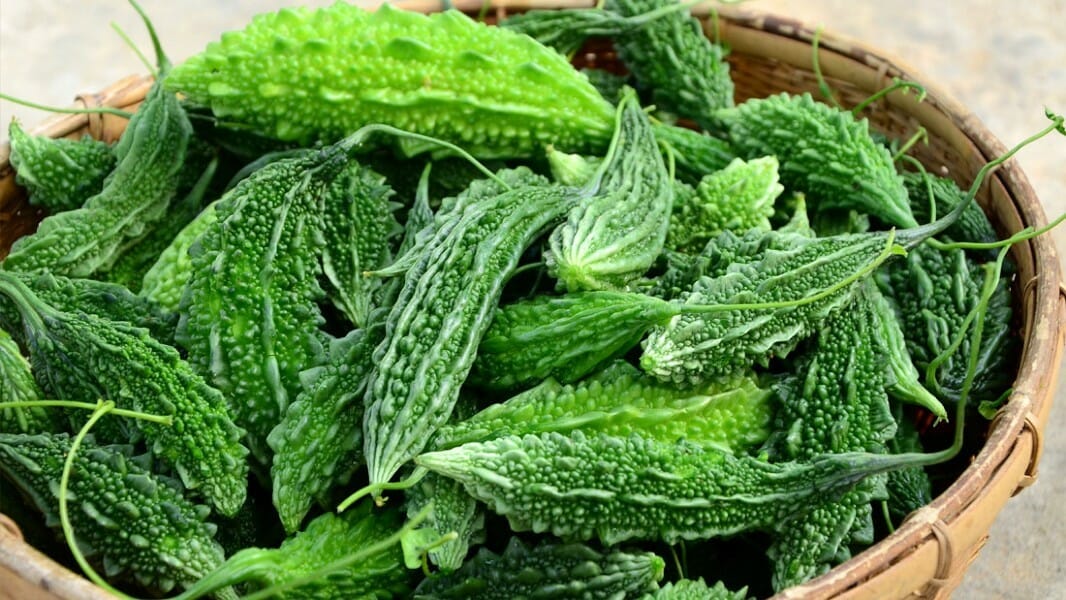 The vegetable needs to be cut into small pieces and cooked in boiling water. After it is well cooked it has to be fried in cooking oil. Fried chana dal and urad dal may be added for enhancement of taste. For those who like a bitter-sweet taste, jaggery is added.
Chips of bitter gourd are also tasty. The vegetable is cut crosswise and the round parts are boiled in water. After this these are fried in oil and later salt and mirchi powder are added to them. If the vegetable is fried along with the seeds, the seeds also get fried and the whole of the chip is tasty. Some prefer to remove the seeds and fry. Pickles are made out of bitter gourd. After the boiled vegetable is soaked in preferably gingelly oil, mirchi powder and salt are added to the mixture. It preserves well for a few months if bottled airtight.
Owing to its bitter taste and probably dictated by superstitions it is not prepared during festive occasions. But it is an important menu item during the lunch served on the occasion of demises in the family, especially in Hindu households.
The medicinal properties of bitter gourd far exceed those of numerous medicinal herbs. Albeit it is a universal plant, it is overwhelmingly cultivated in the Indian sub-continent and parts of Asia. Plant scientists are now deeply engaged in exploring the possibilities of developing injectable insulin from bitter gourd to keep the blood sugar levels under check.
Bittergourd doesn't have many calories. It contains a variety of vitamins, trace elements and minerals, apart from dietary fibre that keeps the body in good shape, not causing obesity. It contains the elements iron, phosphorous, zinc, magnesium, calcium, potassium and manganese.
The juice of bitter gourd is extremely good for those having skin ailments of any type. It's considered best for rashes, itches, ringworms, blood-boils, scabies and psoriasis. The striking quality of bitter gourd is the presence in it of a chemical called ʻmomordicin' which reduces the blood glucose level. Not only for diabetes, it is also prescribed for blood disorders and digestive problems. It's also a good immune booster.
The juice of this remarkable vegetable should not, however, be consumed in excessive quantities. A woman in the family way is advised not to take this juice as it may lead to miscarriage.
Benefits of Bitter Gourd
For obtaining clear eyesight this juice is good. For taste, some lemon juice may be added to it. This should be taken on an empty stomach. Many persons take it daily in the morning to maintain their general health, skin tone and texture.
Bitter gourd possesses other medicinal virtues also. It is an antidotal, antipyretic and also antibilious.
As it has vitamins A, B1, B2, C and iron, its regular intake prevents complications like hypertension eye problems and neuritis. It increases the body's resistance against numerous infections.
Our ancient ayurvedic scriptures mention the use of bitter gourd as a versatile medicine for diabetic patients. Recent researches by a team of doctors from Oxford University in the UK had established that it contains a hypoglycemic or insulin-like principle designated as "plant insulin" which has
been found to be immensely beneficial in lowering BP and urine sugar levels.
International teams from India, Tanzania and Thailand are now very active in unraveling the chemical mystery of bitter gourd to find whether the belief of our forebears that it is really quite useful to fight to the finish diabetes is correct or not. Over the years this vegetable had lost much of its anti-diabetes property owing to the commercial hybrids which had scaled down the bitterness and pungency of the vegetable.
Varieties of Bitter Gourd

Different varieties of bitte r gourds are grown in different regions of the country. Pusa Mausam is grown in and around Delhi. Arka hari is from Rajasthan.  In Gujarat there are cultivars called Pride of Surat and Pride of Gujarat, each fruit weighing eight to 10 grams. There is a variety in Bihar called Satpura which is a hermaphrodite in sex (creature or plant having both male and female organs) and it produces smaller fruits. Pusa nasdar grown in Madhya Pradesh is an early-maturing variety producing 15 to 20 club-shaped fruits per vine.
Coimbatore long, grown in the region of the textile city of Tamil Nadu, Coimbatore or Kovai are tender, bearing 10 to 12 fruits that are very long. VK-1-Priya grown in Kerala is extra-long bearing 50 fruits.