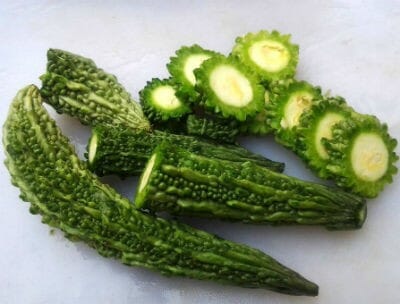 Ingredients:
Bittergourds – 500 gms, cut into thin rounds, seeds removed
Gram Flour – 1/4 cup
Rice Flour – 1/4 cup
Red Chilli Powder – 1 tsp
Turmeric Powder – a pinch
Asafoetida Powder – a pinch
Sugar – a pinch
Sweet Tamarind Chutney as required
Oil as required
Salt as per taste
To Serve:
Chaat Masala Powder – little
Lemon Juice – little (optional)
Coriander Leaves – few, chopped
Onions – 1/4 cup, finely chopped
Red Chilli Powder – little
Method:
1. Mix the bittergourds with sugar, salt, red chilli powder, turmeric powder and asafoetida powder in a bowl.
2. Drain excess water and keep it under the sun for 2 to 3 days or until dried.
3. Then add rice flour, gram flour and enough water. Do not use too much water, just enough to mix the flours.
4. Mix well. The mixture should not be too watery. The mixture should have a pakoda consistency.
5. Heat oil for deep frying.
6. Fry the bittergourds until crisp and golden.
7. Remove, drain excess oil and transfer to a large plate/bowl.
8. Sprinkle chaat masala powder, lemon juice, red chilli powder, onions and mix well.
9. Garnish with coriander leaves.
10. Serve at once.
image via ephotosworld