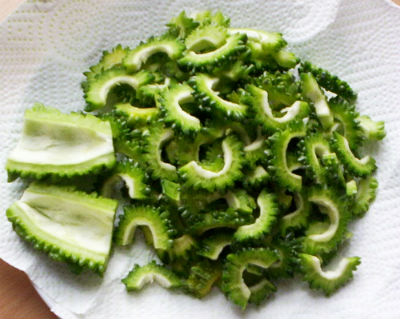 Ingredients:
Bittergourds – 200 gms, seeds removed, chopped
Oil – 3 tblsp
Mustard Seeds – 1 tsp
Curry Leaves – handful
Small Onions – 4, chopped
Salt – 2 tsp or as per taste
Curd – 2 cups, plain, whisked
Grind to a fine paste:
Coconut – 1, grated
Small Onions – 4, chopped
Green Chillies – 10, chopped
Ginger – 3 two inch piece, chopped
Curry Leaves – handful
Mustard Seeds – 1 tsp
Water – 1 1/2 cups
Method:
1. Heat oil in a pan.
2. Fry the mustard seeds till they start to splutter.
3. Add the small onions and curry leaves.
4. Fry till onions turn brown.
5. Add the chopped bittergourds and saute for 5 to 7 minutes.
6. Add salt and 3/4 cup of water.
7. Mix well and cover pan with a lid.
8. Cook over low heat for 10 to 12 minutes till bittergourds are tender.
9. Add curd and ground paste.
10. Cook for a few minutes.
11. Serve hot as a side dish.
Note: image is for illustration purposes only and not that of the actual recipe.