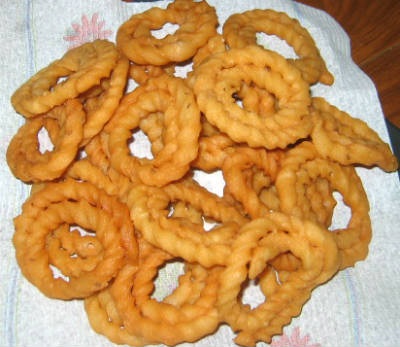 Ingredients:
Maida – 1 1/2 cups, sived
Urad Dal Flour – 1 tblsp, roasted and ground, sieved
Butter – 1 tsp
Salt – 1 tsp
Cumin Seeds – 1 tsp
Asafoetida Powder – 1/2 tsp
Oil – 250 ml
Coconut Oil – 1 tblsp
Method:
1. Tie the maida in a cloth tightly and steam cook in a pressure cooker.
2. Remove and spread the flour on a cloth to dry.
3. Sieve and transfer to a bowl.
4. Add 1 tsp urad dal flour, salt, asafoetida powder, cumin seeds, butter and enough water.
5. Knead well to a thick, pliable dough.
6. Make small-medium balls of the dough.
7. Lightly dip them in coconut oil and form them into twisted spirals around a bottle cap placed on a cloth.
8. Heat oil for deep frying over medium flame.
9. Fry the prepared murukkus till light golden brown.
10. Drain excess oil.
11. Store in an airtight container.
Image credit: ifood.tv
Note: image is for illustration purposes only and not that of the actual recipe.