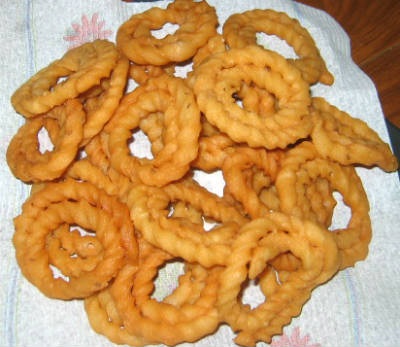 Ingredients:
Puzhungal Arisi (Parboiled Rice or Idly Rice) – 4 cups
Urad Dal – 1/2 cup
Salt – 1 1/2 tsp
Butter – 25 gms
White Sesame Seeds – 2 tblsp
Asafoetida Powder – 1 1/2 tblsp
Oil – 500 ml
Coconut Oil – 2 tblsp
Method:
1. Soak the rice for 5 hours and grind smoothly.
2. Spread this out on a clean white cloth to dry under the shade.
3. Dry roast the dal till light golden and grind to a powder.
4. Combine the rice flour, urad flour, salt and asafoetida powder.
5. Add the white sesame seeds and butter.
6. Mix well to a thick, pliable dough.
7. Make balls of the dough and dip them in coconut oil.
8. Add the dough to a thenkuzhal/murukku maker.
9. Heat oil in a deep frying pan over medium flame.
10. Press the murukku maker over the hot oil and fry till light golden brown.
11. Remove and drain excess oil.
12. Store in an airtight container.
13. Serve.
Note: image is for illustration purposes only and not that of the actual recipe.