Kozhukattai is a must have dish for Ganesh Chaturthi. This kozhukattai has a coconut and jaggery filling.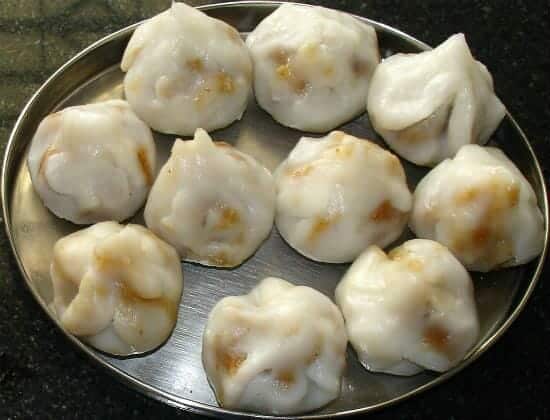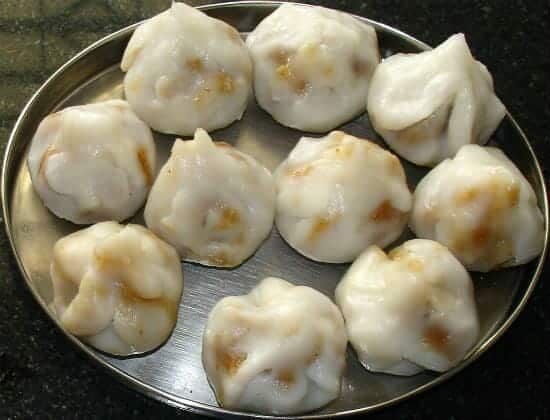 Ingredients:
Rice Flour – 3 cups
Oil – 1 tblsp
Salt as per taste
For the stuffing:
Coconut – 2 cups, grated
Jaggery – 1 1/2 cups, grated
Cardamom Powder – 1/4 tsp
Method:
1. Heat a pan of water over medium flame.
2. Add the jaggery and stir well until fully dissolved.
3. Strain this into another pan to remove any impurities.
4. Place the pan over medium flame and simmer until thick and has a one string consistency.
5. Add the grated coconut and stir until the contents start to leave the sides of the pan.
6. Remove from flame and add cardamom powder.
7. Mix well and keep aside.
8. Heat oil in a pan over medium flame.
9. Pour 3 cups of water and salt.
10. Bring to a boil.
11. Mix the rice flour with 3 cups of water and mix well without any lumps.
12. When the water starts to boil, add the rice mixture and stir continously until smooth and thick.
13. Remove from flame.
14. When it is cool enough to handle, knead the rice flour dough and make small balls of the dough.
15. Shape the balls into small cups and add some of the coconut stuffing inside.
16. Fold well and shape into kozhukattais of desired shapes.
17. Steam cook the prepared kozhukattais for 10 to 15 minutes.
18. Remove and serve.
Note: You can prepare the stuffing in advance. Stays good if kept in a fridge for 20 to 30 days or for 5 to 7 days if kept outside.