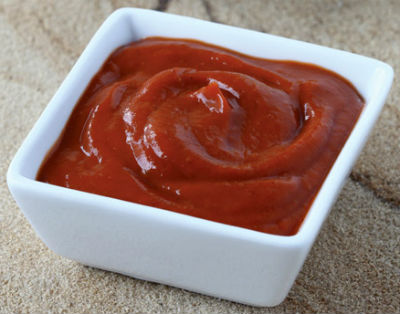 Ingredients:
Onion – 1, small, chopped
Garlic – 1, small clove, minced
Tomato Paste – 1/2 tblsp
Olive Oil – 1 tblsp
Mustard Powder – 1/2 tsp
Salt – 1/2 tsp
Paprika – 1/4 tsp
Clove Powder – a very small pinch
Allspice Powder – a small pinch
Tomatoes – 400 gms, crushed or pureed
Brown Sugar – 1/4 cup
Apple Cider Vinegar – 2 tblsp
Method:
1. Heat olive oil in a large pan over medium flame.
2. Saute the onions until browned.
3. Add garlic and stir-fry for a minute.
4. Add the tomato paste, salt, mustard powder, paprika, allspice powder and clove powder.
5. Stir to mix well.
6. Now add the tomatoes, sugar and vinegar.
7. Reduce flame to low and gently simmer for 30 to 45 minutes or until the mixture starts to thicken.
8. Stir from time to time so that the ketchup does not stick to the pan.
9. Remove and keep aside to cool.
10. Transfer to a blender and blend until smooth.
11. Strain and pour into a clean, sterilizer jar.
12. Stays good for a month if stored in the fridge.
image credit: vitamix.com