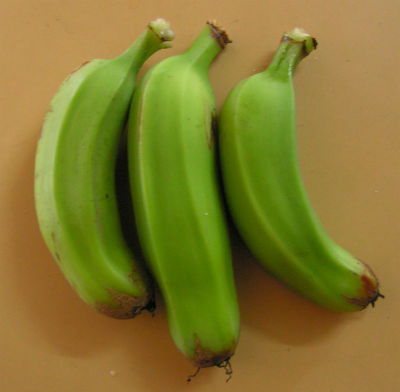 Ingredients:
Vazhakkai (Raw Banana) – 1, boiled, peeled, mashed
Dry Red Chillies – 8
Onion – 1, big, finely chopped
Small Onions – 10, peeled
Tomatoes – 2, chopped
Garlic – 1 clove
Tamarind – little
Saunf – 1 tsp
Curry Leaves – few
Coriander Leaves – few
Mustard Seeds – 1 tsp
Oil – 1 tsp
Urad Dal – 1 tsp
Salt as per taste

Method:
1. Combine the red chillies, garlic, tamarind and saunf.
2. Grind together in a smooth paste.
3. Heat oil in a pan.
4. Fry the mustard seeds, urad dal and curry leaves for a minute.
5. Add the chopped onions, small onions and saute well.
6. Add tomatoes, salt and saute for 2 to 3 minutes.
7. Add the ground masala, mashed banana and stir well.
8. Pour enough water and cook till the oil floats to the top.
9. Garnish with coriander leaves.
10. Serve hot with idli or dosa.
Tip: Do not pour too much water otherwise it will become too watery. Just a little to cook it through.