A simple and easy recipe to make pasta sauce at home for all those lovely pasta dishes.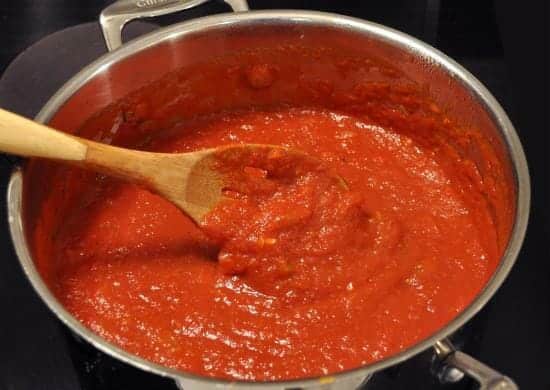 Ingredients:
Tomatoes – 8 to 10
Onions – 3 to 4, finely chopped
Garlic – 8 to 10 cloves, finely chopped
Olive Oil – 1/3 cup
Basil Leaves – 2 tsp
Italian Seasoning – 1 tblsp (available in supermarkets or use the recipe below)
Black Pepper Powder – 2 tsp
Corn Flour – 2 tblsp, mixed with 3 tblsp water
Salt as per taste
For Italian Seasoning:
Dried Basil – 3 tsp
Dried Oregano – 3 tsp
Dried Parsley – 3 tsp
Garlic Powder – 1 tsp
Onion Powder – 1/4 tsp
Dried Thyme – 1/4 tsp
Dried Rosemary – 1/4 tsp
Black Peppercorns – 1/16th tsp
Red Chilli Flakes – 1/16th tsp
Method:
1. Combine and grind all the italian seasoning ingredients to a fine powder.
2. Heat a pan of water over medium flame.
3. Add the tomatoes and simmer for 15 minutes.
4. Peel the skin and grind to a smooth pulp.
5. Heat olive oil in a pan.
6. Add the onions and saute until golden.
7. Add the garlic, tomato pulp and stir well.
8. Add salt, 1 cup of water and bring to a boil.
9. Simmer until the raw smell of the tomatoes is gone.
10. Add the italian seasoning, pepper powder, basil leaves and stir well.
11. Simmer for another 5 minutes.
12. When it starts to thicken and has a sauce like consistency, add corn flour paste and stir well.
13. Switch off the flame and allow it to cool.
14. Transfer to a clean, sterilized jar and use as required.