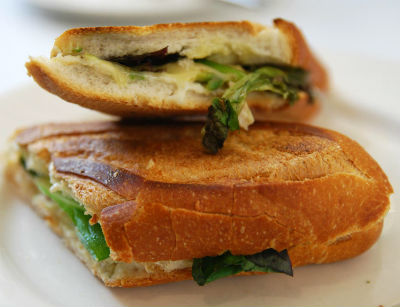 Ingredients:
Chicken – 250 gms, ground
Avocado – 1, peeled, sliced
Sun-dried Tomatoes – 1/3 cup, sliced
Breadcrumbs – 1/2 cup
Egg – 1, small, lightly beaten
Dijon Mustard – 1 tsp
Thyme Leaves – 1 tsp, chopped
Green Apple – 1/2, grated
Carrot – 1/2, grated
Onion – 1/2, grated
Olive Oil – 1/2 tblsp
Baguettes – 4, small or 2, large
Arugula – 1/2 bunch, washed, trimedd
Salt as per taste
Black Pepper Powder as per taste
Mayonnaise as required
Method:
1. Combine and mix together the chicken, breadcrumbs, egg, mustard and thyme in a bowl.
2. Squeeze dry the apple, onion and carrot.
3. Add to the chicken mixture and mix well.
4. Add salt and pepper powder.
5. Shape the mixture into 10 to 12 patties.
6. Place them on a tray and keep them in the fridge until required.
7. Heat oil in a frying pan over medium flame.
8. Cook the patties until golden and cooked on each side for 2 to 3 minutes.
9. Remove and drain excess oil.
10. Slice the baguettes in half and spread some mayonnaise.
11. Fill each roll with the prepared patties (2 or 3 per roll).
12. Top up with arugula, avocado and tomatoes.
13. Serve with extra mayonnaise or ketchup and french fries on the side.
Tip: If you do not want to make the mixture into patties, spread 2 to 3 tblsp of the chicken mixture into the baguettes and continue with step 12 and 13.
image credit: flickr