A classic French dessert, the Cherry Clafoutis is easy to make, delicious and perfect for any occasion. Instead of cherries, you can also use plums or apricots too.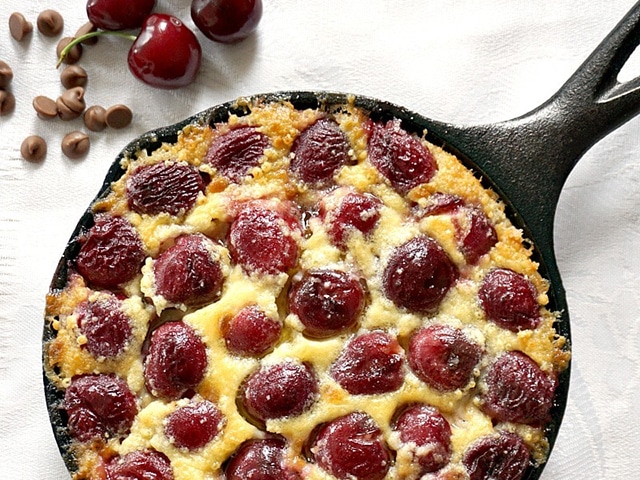 Ingredients:
All Purpose Flour – 1/2 cup
Eggs – 2, lightly beaten
Caster Sugar – 1 tblsp
Salt – a pinch
Milk – 1 1/4 cups
Butter for greasing
Black Cherries – 250 gms (preferably fresh)
Brandy – 1 1/2 tblsp
Sugar – 1/2 tblsp, to decorate
Method:
Whisk the flour into a large bowl.
Make a well in th center and add the eggs, sugar and salt.
Mix them well and whisk again.
Pour in the milk ans whisk the batter thoroughly, until very smooth.
Butter a serving dish and pour in half of the batter.
Add the cherries and pour the remaining batter over the top.
Sprinkle the brandy over the batter.
Bake in a preheated oven, 180C/350F for 40 minutes.
Remove from the oven and sprinkle over the sugar just before serving.
Serve warm.