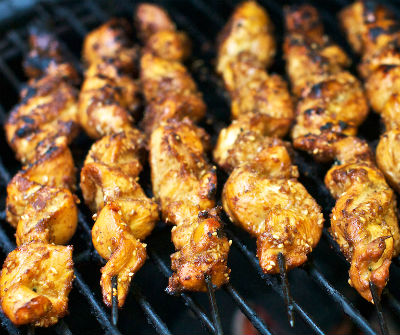 Ingredients:
Chicken Breast – 300 gms, boneless, cut into 1 inch cubes
White Sesame Seeds – 1/2 tsp
Black Sesame Seeds – 1/2 tsp
Dry Mango Powder – 1/2 tblsp
Bamboo or Metal Skewers (if using bamboo skewers soak them in water for 15 to 30 minutes)
Method:
1. Skewer the chicken pieces.
2. Mix the sesame seeds and mango powder in a bowl.
3. Sprinkle this over the chiicken pieces.
4. Place the skewers in a preheated grill or barbecue.
5. Cook until the chicken pieces are cooked through and lightly browned.
6. Remove and serve.