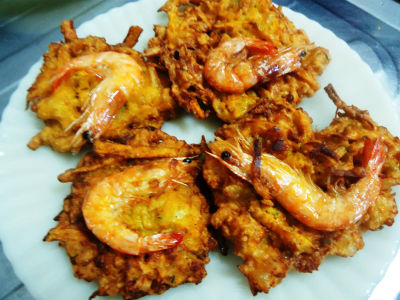 Ingredients:
Shrimps – 60 gms, cleaned, shells and head intact
Papaya – 1, small, unripe, peeled, grated
Oil – 1 cup
For the batter:
Corn Flour – 1/2 cup
Maida – 1/2 cup
Baking Powder – 1/2 tsp
Salt – 1/4 tsp
Edible Orange Food Colour – 1/2 tsp, mixed with 1/4 cup water
Egg – 1, beaten
Method:
1. Mix all the batter ingredients thoroughly.
2. Add the grated papaya and mix.
3. Heat a pan over medium flame.
4. Place 1 tblsp of the prepared mixture on a flat plate.
5. Flatten it slightly and place 1 or 2 shrimps on top.
6. Press the shrimps halfway into the mixture and gently slide this into the hot oil.
7. Deep fry until crispy and browned.
8. Remove and drain excess oil.
9. Serve hot with sauce or chutney of choice.