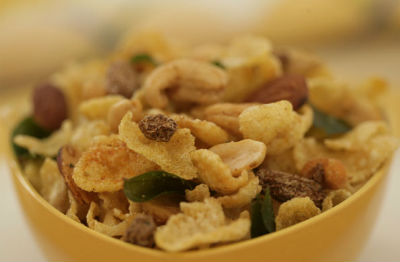 Ingredients:
Cornflakes – 250 gms
Salt and Sweet Biscuits – 100 gms, small pieces, crushed
Peanuts – 100 gms
Cashewnuts – 3 tblsp
Raisins – 1 tblsp
Sugar – 1 tsp, powdered
Red Chilli Powder – 1 tsp
Turmeric Powder – a pinch
Curry Leaves – few
Oil as required
Salt as per taste
Method:
1. Heat oil in a pan over medium flame.
2. Fry the cornflakes and remove. Place them on a tissue or kitchen paper to remove excess oil.
3. Transfer them to a bowl.
4. Add salt, sugar, turmeric powder and mix well.
5. Dry roast the peanuts, cashewnuts, curry leaves and raisins.
6. Add them to the cornflakes.
7. Add the biscuits and red chilli powder.
8. Mix well and store in an airtight container.
9. Serve as a snack.
image credit: Sri Krishna Sweets