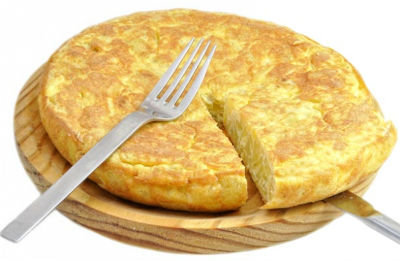 Ingredients:
Eggs – 3, large, beaten
Potatoes – 225 gms, peeled, quartered, finely sliced
Extra-Virgin Olive Oil – 1 1/2 cups + 1 tblsp
Sea Salt – 1/2 tsp
Method:
1. Heat 1 1/2 cups of olive oil in a pan over medium flame.
2. Add the sliced potatoes and fry till golden brown.
3. Remove and drain excess oil.
4. Add the potatoes to the beaten eggs and mix well.
5. Heat 1 tblsp of oil in a pan over medium flame.
6. Pour the egg mixture and reduce flame to low.
7. Once it begins to set and edges turn golden brown, flip over the other side and cook for a minute more or till cooked.
8. Remove and transfer to a serving plate.
9. Serve hot.
image credit: learnspanish4life.co.uk