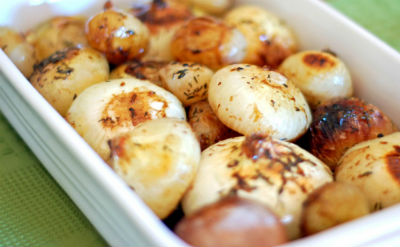 Ingredients:
White Onions – 750 gms, peeled
Olive Oil – 3 1/2 tblsp
Vegetable Stock – 1/3 cup
Salt as per taste
Black Pepper Powder as per taste
Method:
1. Heat oil in a large pan over medium flame.
2. Add the onions and saute until brown.
3. Remove and transfer to a baking dish.
4. Add the oil from the pan and pour the stock.
5. Sprinkle some salt and pepper powder.
6. Place the baking dish in a preheated oven at 340F/180C.
7. Bake for an hour, turning the onions from time to time and adding a few spoonfuls of the stock on top.
8. Remove and serve.
Note: image is for illustration purposes only and not that of the actual recipe.