A quick and delicious Chicken dish with honey and ginger cooked in Vietnamese style.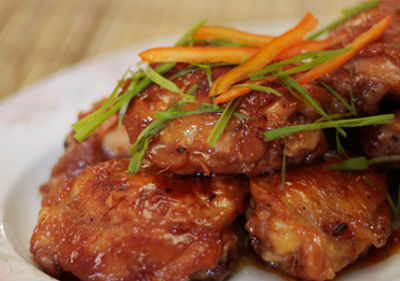 Ingredients:
Chicken Thighs – 250 gms, boneless, thinly sliced
Onion – 1, medium, cut into wedges
Oil – 1 1/2 tblsp
Garlic – 1/2 tblsp, minced
Ginger – 1 one inch piece, peeled, cut into thin strips
Five Spice Powder – 1/4 tsp
Fish Sauce – 1/2 tblsp
Soy Sauce – 1 tblsp
Honey – 1 tblsp
Black Pepper Powder – 1/4 tsp
Red Chilli – 1, small, deseeded, cut into thin strips

Method:
1. Heat oil in a pan over high heat and stir-fry the onions for 30 to 60 seconds.
2. Add the chicken pieces and stir-fry for another minute.
3. Add the ginger and garlic.
4. Stir for 30 seconds and reduce flame to medium.
5. Add the five spice powder and mix well.
6. Add fish sauce, soy sauce and honey.
7. Stir well till the chicken is cooked and well coated with the sauces.
8. Remove and transfer to a serving plate.
9. Garnish with red chilli strips and black pepper powder and serve hot with rice.