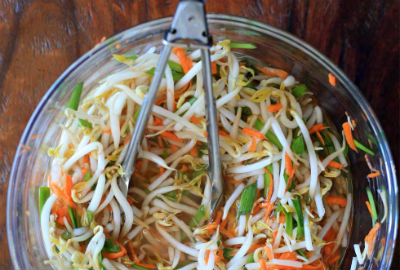 Ingredients:
Bean Sprouts – 2 cups, washed, seeds and tails removed
Spring Onion – 1, cut lengthwise
Carrot – 1/2 cup, cut into small pieces lengthwise
For the dressing:
White Vinegar – 1/3 cup
Sugar – 1 tblsp
Salt – 1/2 tblsp
Water – 1/2 cup
Method:
1. Combine the bean sprouts, spring onions and carrot in a bowl.
2. Heat a pan over medium flame.
3. Add the white vinegar, sugar, salt and water.
4. Simmer over low flame for a minute.
5. Stir well till the sugar has dissolved.
6. Remove and keep aside to cool.
7. Once cooled, pour this over the vegetables and mix well.
8. Keep the bowl aside for 1 to 2 hours.
9. Drain excess water before serving.