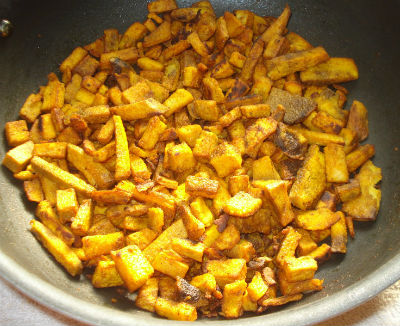 Ingredients:
Elephant Yam (Senai) – 250 gms, peeled, finely chopped
Turmeric Powder – 1/2 tsp
Tamarind Extract – 3/4 cup
Red Chilli Powder – 1 tsp
Mustard Seeds – few
Urad Dal – few
Asafoetida Powder – a small pinch
Oil for frying
Salt as per taste
Method:
1. Add the chopped yam pieces to the tamarind extract.
2. Add salt, turmeric powder and place over moderate flame.
3. Simmer for a few minutes and drain excess water.
4. Heat oil in a pan.
5. Fry the mustard seeds and urad dal for 30 seconds.
6. Add the yam pieces and asafoetida powder.
7. Add red chilli powder and fry till crisp.
8. Remove and serve hot with rice.
Image credit: Sangeetha Nambi