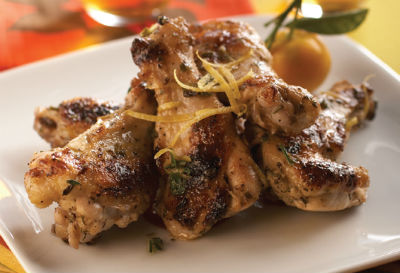 Ingredients:
Chicken Wings – 12
Lemon Juice – 1/4 cup
Extra-Virgin Olive Oil – 1/4 cup
Lemon Zest – 1 tsp, grated
Thyme – 1/2 tsp, minced
Rosemary – 1/2 tsp, minced
Mint Leaves – 1/2 tsp, chopped
Salt as per taste
Black Pepper Powder as per taste
Method:
1. In a bowl, combine the lemon zest, lemon juice, olive oil, thyme, rosemary, mint, salt and pepper powder.
2. Mix well and add the chicken wings.
3. Toss well to evenly coat the wings.
4. Cover and keep aside to marinate for 60 minutes.
5. Drain the wings and discard the marinade.
6. Grill the wings in a preheated grill till golden brown, around 7 minutes.
7. Turn the wings from time to time to evenly grill them.
8. Transfer to a plate and serve.