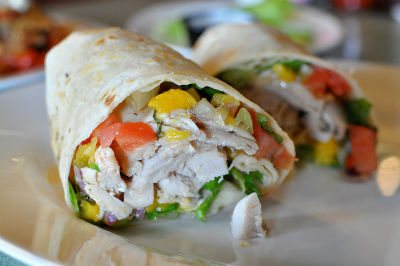 Ingredients:
Chicken Breast – 100 gms, grilled, skinless, boneless, shredded
Tortilla Wraps – 2, large
Red Capsicum – 1/2, finely sliced into strips
Mango – 1/2 cup, sliced
Coriander Leaves – 1/2 cup, coarsely chopped
Mint Leaves – 10, washed, dried
Plain Yogurt – 1/8 cup
Sea Salt as per taste
Black Pepper Powder as per taste
Method:
1. Combine chicken, capsicum, mango, coriander leaves and mint leaves in a bowl.
2. Spoon the mixture on one half of the tortillas.
3. Add a dollop of yogurt.
4. Sprinkle salt and pepper.
5. Wrap the tortillas and roll tightly.
6. Serve at once.
Tip: If desired, place them in a hot oven and cook for 30 to 45 seconds or lightly browned on top.