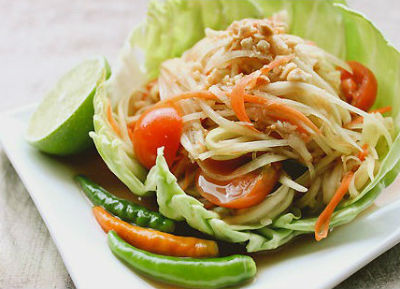 Ingredients:
Green Papaya – 1
Carrot – 1, peeled
Onion – 1, peeled
Garlic – 1 clove, peeled
Dried Prawns – 2 tsp
Peanuts – 3 tsp, roasted
Red Chilli – 1, deseeded
Juice of 2 Limes
Fish Sauce – 2 1/2 tblsp
Palm Sugar
Banana Leaf or Lettuce Leaf to serve
Method:
Shred the papaya and carrot.
Finely grate the onion.
Mix all the three in a bowl.
Grind the garlic, prawns, peanuts and chilli to a paste.
Add the lime juice, fish sauce and sugar to taste.
Mix well.
Pour the dressing over the salad.
Keep aside for 20 minutes before serving.