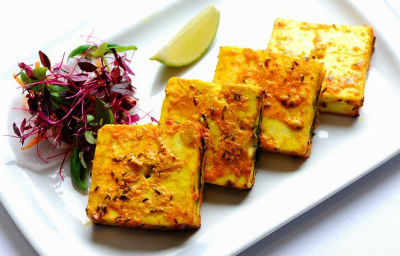 Ingredients:
Paneer – 150 gms, cut into small rectangles
Hung Yogurt – 1 1/2 tblsp
Cumin Powder – 1/2 tsp
Red Chilli Powder – 1/4 tsp
Tomatoes – 125 gms, skin removed and pulp chopped
Garlic – 1 to 2 cloves, peeled, crushed
Green Chillies – 2, chopped
Clove Powder – 1/4 tsp
Mace Powder – 1/4 tsp
Cardamom Powder – 1/4 tsp
Salt as per taste
Oil – 1/2 tblsp
Method:
1. Combine the yogurt with cumin powder and red chilli powder.
2. Whisk well.
3. Add the paneer pieces and marinate them for 15 minutes.
4. Heat oil in a pan over low heat.
5. Add garlic, green chillies and tomatoes.
6. Cook till a sauce-like consistency is achieved.
7. Add salt and stir to mix well.
8. Heat a non-stick pan and spread a little oil.
9. Grill the paneer pieces till light brown on both sides.
10. Place them on a serving plate and spoon the tomato mixture on top.
11. Sprinkle clove powder, mace powder and cardamom powder.
12. Serve.
Note: image is for illustration purposes only and not that of the actual recipe.