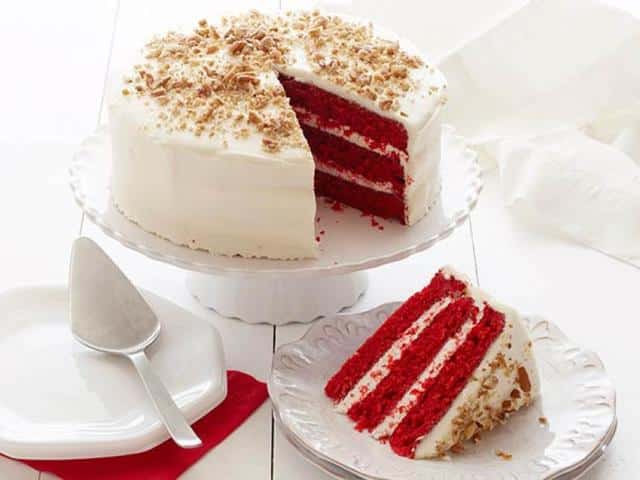 Ingredients:
Maida – 1 1/4 cups
Baking Soda – 1/2 tsp
Salt – 1/2 tsp
Cocoa Powder – 1 tsp, unsweetened
Sugar – 1 cup, granulated
Egg – 1, large
Oil – 1 cup
Buttermilk – 1/2 cup
Red Food Colouring – few drops
Vanilla Extract – 1/2 tsp
For the frosting:
Cream Cheese – 1/2 cup
Icing Sugar – 1 cup
Almonds/Cashews/Pecans – 1/2 cup, finely chopped + few for garnish
Vanilla Extract – 1/2 tsp
Butter – 1/4 cup
Method:
1. Combine and sift the flour, baking soda, cocoa powder and salt together. Keep aside.
2. Mix the the sugar and egg in a different bowl.
3. Gently pour the oil and beat well.
4. Add the flour mixture and buttermilk.
5. Mix well and add the vanilla extract and food colour.
6. Divide the mixture among 3 round greased cake pans.
7. Bake in a preheated oven at 350F foro 30 to 40 minutes.
8. Insert a toothpick or skewer in the centre and if it comes out clean, the cake is done.
9. Remove and cool.
10. To make the frosting, combine the cream cheese and butter.
11. Add the icing sugar and beat well till smooth.
12. Add the vanilla extract and almonds.
13. Spread the frosting between the layers, on the sides and on top of the cake.
14. Garnish with the almonds.
image credit: lovencake