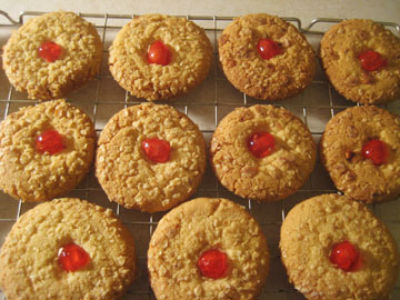 Ingredients:
Butter – 115 gms, soft
Caster Sugar – 85 gms, golden
Egg Yolks – 1, large
Maida – 140 gms
Oats – 25 gms
Vanilla Extract – few drops
Red Cherries to garnish (optional), quartered
Method:
1. Combine and mix the butter, sugar, egg, maida and vanilla extract to a soft dough.
2. Make small balls of the dough and roll them in oats till well coated.
3. Flatten each ball slightly and top with cherry.
4. Place them on a baking tray lined with baking sheet.
5. Bake them in a preheated oven at 190C for about 15 to 20 minutes or until golden.
6. Remove and cool for a few minutes.
7. Serve or store them in airtight container.