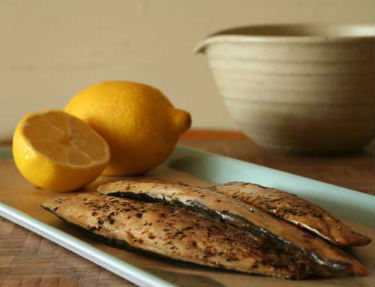 Ingredients:
Mackerel – 3 to 6, cleaned, washed
Limes – 1 to 2, sliced
Salt – 1/2 tblsp
Brown Sea Salt as required
Banana Leaves
Black Pepper Powder
Method:
1. Apply salt in the cavities and the outside with sea salt.
2. Press well and wrap the fish in banana leaves.
3. Place them on a bed of hay in a single layer and cover with more hay.
4. Set the hay on fire for 10 to 15 minutes till the fish is cooked.
5. Remove, unwrap, sprinkle some pepper powder (if desired) and serve with lime slices.
image credit: alchemy in the kitchen