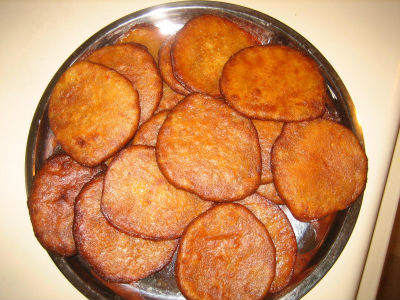 Ingredients:
Kambu Maavu (Pearl Millet Flour) – 1 cup
Jaggery – 1/2 cup, powdered
Sesame Seeds – handful
Oil as required
Method:
1. Combine the flour, jaggery and sesame seeds.
2. Mix well to a hard dough.
3. Make small balls and flatten them using the palm of your hands.
4. Place them on a banana leaf (or a plastic sheet).
5. Heat oil for frying and fry the discs in hot oil (remove the plastic sheet or banana leaf before putting them in oil).
6. Remove and drain excess oil.
7. Sprinkle sesame seeds on top before the oil dries.
8. Serve.
Note: image is for illustration purposes only and not that of the actual recipe.
Image credit: full meals