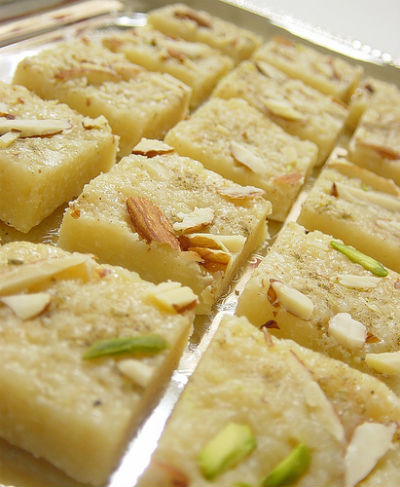 Ingredients:
Coconut Milk – 1 1/4 cups, thick
Milk – 2/3 cup
Sugar – 2/3 cup
Coconut – 1/4 cup, grated
Butter – 2 tblsp, unsalted
Almonds and Pistachios – handful, slivered, to garnish
Method:
1. Heat a pan over moderate flame.
2. Pour coconut milk and milk together.
3. Bring to a boil.
4. Add sugar and grated coconut.
5. Keep stirring till it solidifies.
6. Add butter, stir and remove from heat.
7. Spread on a flat greased plate and allow to cool.
8. Garnish with slivered almonds and pistachios if desired.
9. Before it cools completely cut into desired shapes (squares or rectangle).
10. Serve.
This stays good for a few days if stored in an air-tight container.
image credit: ken exporters