Bottle Gourd (Doodhi/Lauki/Sorakkai) is a vegetable loaded with nutrients. This delicious and simple halwa is popular in North India.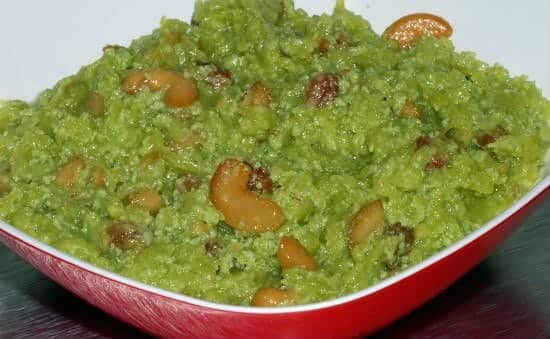 Ingredients:
Bottle Gourd (Sorakkai/Doodhi/Lauki) – 400 gms
Milk – 250 ml
Palm Sugar (or Regular Sugar) – 150 gms
Cardamom Powder – 1/2 tsp
Ghee – 2 tblsp
Raisins – few
Cashew Nuts – few
Method:
1. Peel and grate the bottle gourds.
2. Heat milk in a pan over medium flame.
3. Add the grated bottle gourds and simmer for a few minutes.
4. In a separate pan, add the palm sugar and pour enough water.
5. Stir well and bring to a gentle boil.
6. Pour this in the bottle gourd mixture and stir well.
7. Simmer until the water has almost evaporated and the halwa starts to thicken.
8. Add the cardamom powder and stir.
9. Fry the raisins and cashew nuts in ghee.
10. Add to the halwa.
11. Remove and serve.
Tip: If preferred you can also add saffron strands.
Image via Vah Chef