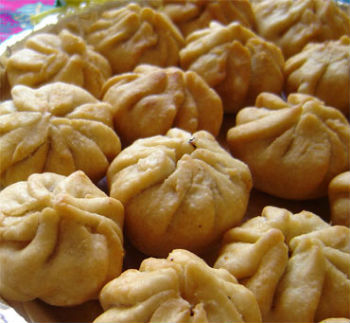 Ingredients:
Maida – 3 cups
Salt – 1/4 tsp or as per taste
Ghee – 2 tblsp, melted and hot
Water as required
Oil for frying
For Stuffing:
Coconut – 1 cup, grated
Fine Rawa – 1 cup
Sesame Seeds – 1/2 cup, dry roasted till golden
Sugar – 1 cup
Cardamom Powder – 1 tsp
Cashewnuts – 2 tblsp, finely chopped, fried
Method:
1. To make the stuffing, roast the rawa using 3/4 tsp of ghee.
2. Fry the grated coconut over low flame till light red.
3. Heat a pan over moderate heat.
4. Add sugar and water and allow to boil till one string consistency.
5. Add the fried coconut, rawa and sesame seeds.
6. Add cardamom powder and fried cashewnuts.
7. Mix well and keep aside.
8. For the dough, mix salt and melted ghee with maida and blend well.
9. Sprinkle water and knead the dough well.
10. The dough should be harder than a chapathi dough consistency.
11. Continue to knead until soft and pliable.
12. Cover it with a damp cloth or a lid and keep aside for 30 to 45 minutes.
13. Make small balls of the dough.
14. Roll it out into small puris.
15. Add 1 tblsp or more of the stuffing in the centre.
16. Life the corners upwards and seal. Use water to wet the corners before lifting.
17. Repeat the process till all the dough and stuffing is used.
18. Heat oil in a frying pan.
19. Deep fry the modaks in low-medium flame until golden brown.
20. Remove and drain excess oil.
21. Serve.