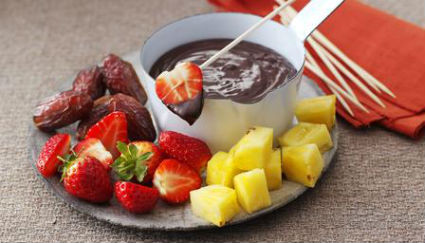 Ingredients:
Dark Chocolate – 1 cup, finely chopped
Mixed Fresh Fruits (Strawberries, mangoes, apples, bananas or pineapple) – 4 cups, cut into 1 inch pieces
Water
Method:
1. Bring 4 to 5 cups of water to a boil in a small pan.
2. Place a bowl over the mouth of the saucepan to hold the chocolate.
3. Melt chocolate until warm and smooth, stirring constantly.
4. Remove from heat.
5. Pour into a bowl.
6. Serve at once with the fresh fruits.
image credit: bbcgoodfood