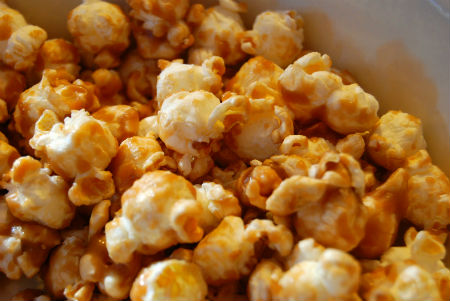 Ingredients:
Corn Oil – 60 ml
Popping Corn (ready made packs also fine) – 200 gms
Butter – 100 gms
Soft Brown Sugar – 100 gms
Golden Syrup – 150 ml

Method:
1.Heat the oil in a saucepan.
2. Add the corn and, with the lid on, shake to coat in the oil.
3. Over a medium heat, shake the pan occasionally until the corn pops.
4. Remove from heat.
5. Place the butter, sugar and syrup in another pan.
6. Stir together over a medium heat until the butter has melted and the sugar has dissolved.
7. Put the popcorn into a large mixing bowl and drizzle the toffee sauce over the top.
8. Stir until the popcorn is coated.
9. Stop stirring when the sauce has cooled and is setting.
10. Leave until cool enough to eat.
image credit: persimmonpudding.blogspot.in